Choosing a Web Designer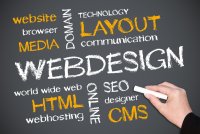 Things to consider when choosing a Web Designer
If you are creating a personal or business website and plan to use a web designer there are a few things to consider. After all, you don't want to spend a lot of money and end up with something that is not fit for the purpose. The task of selecting a web designer can be even more difficult if you don't understand the industry. So let's walk through some things you should keep in mind.
Remember it's not just about the look of a site
Sure, you want a website that looks good. It should have high quality graphics and images that make it look visually appealing. It should also have a modern looking design so that the site doesn't look like it was created in the last millennium. With this said, it has be more than just stylish. There has to be some substance to the website.
For instance, a website with a flash introductory video may look great but the search engines can't read Flash code so they can't rank such a page. I have even seen websites that have a wonderful flash splash page but they are not even indexed by the search engines.
So not only do they not rank in the search engines, they don't exist in the search engines. And if you don't know why this is important, the majority of traffic or visitors to a website come from type in traffic – people logging into Google, Yahoo or Bing search and keying in terms, products or services they are interested in. That flash looking website will never be seen by these people.
So a good web designer must have an eye for style but they must also be well aware of the substance of getting a website to rank in the search engines. This means they should create web site pages that are compliant with the current W3C coding standards. They should create code that loads fast using CSS stylesheets rather than tables. They should create a Google sitemap so that the Google search engines can "see" them.
If you are thinking about hiring a web designer and all of these ideas are foreign to him or her then perhaps you need to look elsewhere. Ask the designer how a site created by them will rank or whether the site is Search Engine Optimisation (SEO) friendly. Some designers are only interested in the aesthetic of design. You want someone that can deliver on both look and functionality.
This is why many people get their sites created by a web design team rather than an individual. One member of the team looks after the look and the other looks after the functionality.
On a more practical note, when picking a web designer, ask to see previous work. Ask to see previous work that might be similar to what you want. This will give you a good idea if the designer will be able to do the job. You may also want to ask for testimonials.
Another practical consideration is how easy the designer is to deal with. Are they approachable ? Can you talk to them face to face. It is easy to outsource a design to someone that you only deal with via email. This can make communication difficult for both parties leading to poor results.
On a final note, don't use cost as your only measure of suitability. The cheapest solution is rarely the best solution. The best solution is someone that has the skills to deliver what you want and is easy to work with. If this costs a bit extra, so be it, it's money well spent.
Posted By mick on Thursday 18th October 2012 @ 00:28:19
Updated : Thursday 18th October 2012 @ 21:25:47 | Words : 614 | Views : 6215 | Comments : 0
© spIT Since 2000

A responsive website essentially responds to the size of the screen that it is displayed on and alte . . .
Posted By mick on Tuesday 9th April 2013
Words : 507 | Views : 7269 | Comments : 1
Is it worth having a booking system with live availability? In a word, yes it is worth having a liv . . .
Posted By mick on Friday 19th October 2012
Words : 369 | Views : 7831 | Comments : 0
Does your website need a Content Management System? If you are planning to get your business online . . .
Posted By mick on Friday 19th October 2012
Words : 537 | Views : 5777 | Comments : 0
Blogger : mick

. . .
Registered Since Monday 1st August 2011
Topics : 10 | Comments : 1